Flagstaff
Championship Golf
---
Designed by Jay Morrish, Pine Canyon's championship golf course offers challenging play, picturesque mountain scenery, impeccable greens and broad fairways.
PLAY IN THE PINES
---
Morrish took full advantage of Pine Canyon's sweeping panoramic views of the San Francisco Peaks and its dynamic topography resulting in frequent elevation changes among towering Ponderosa pines. Water is abundant throughout the course, from ponds to trout-stocked lakes, all strategically placed across our rolling fairways.
Schedule a Discovery Experience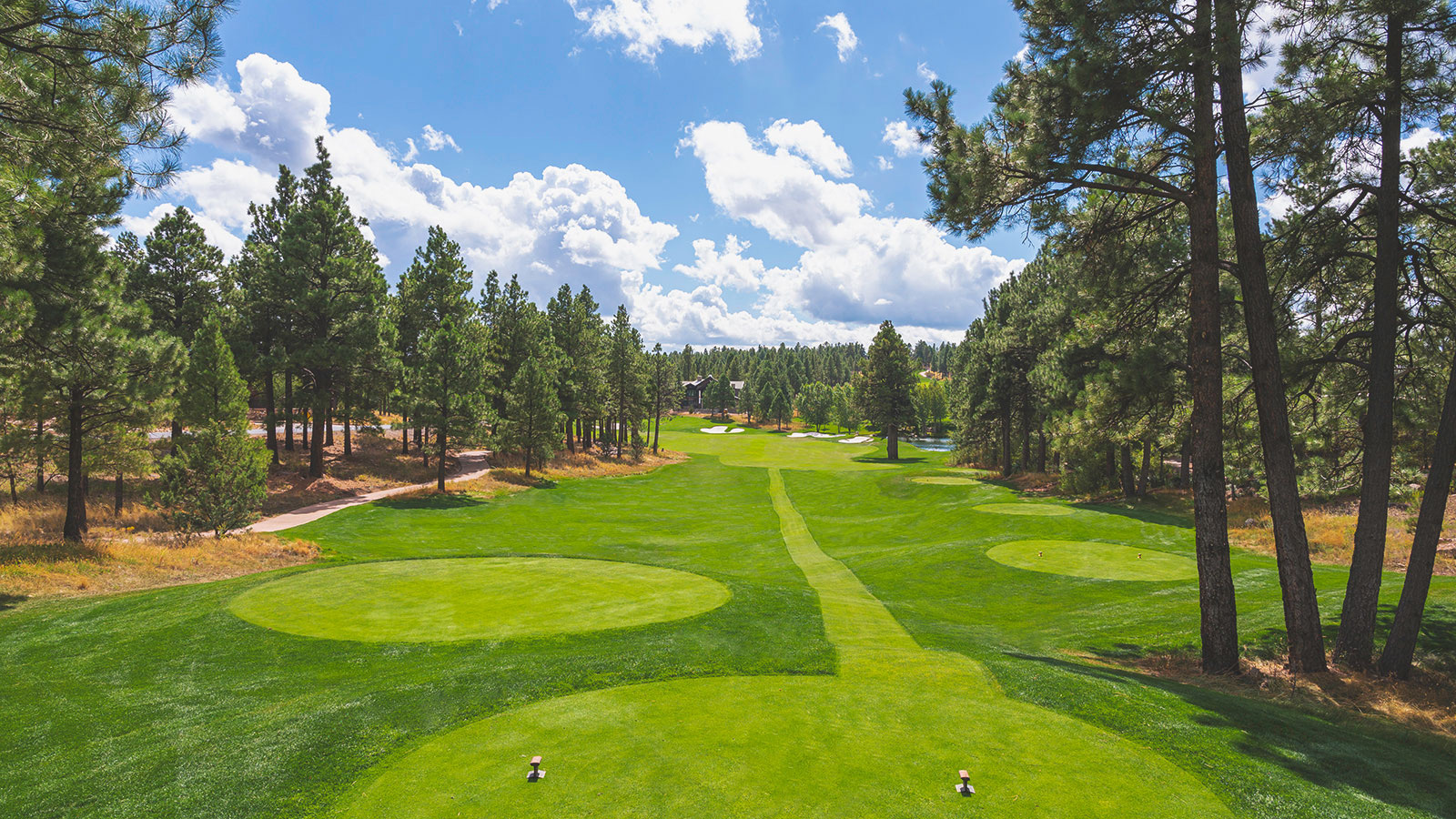 Hole 1 Pine Shadows Cut the corner left if you dare, but be careful, too far and you're out of bounds.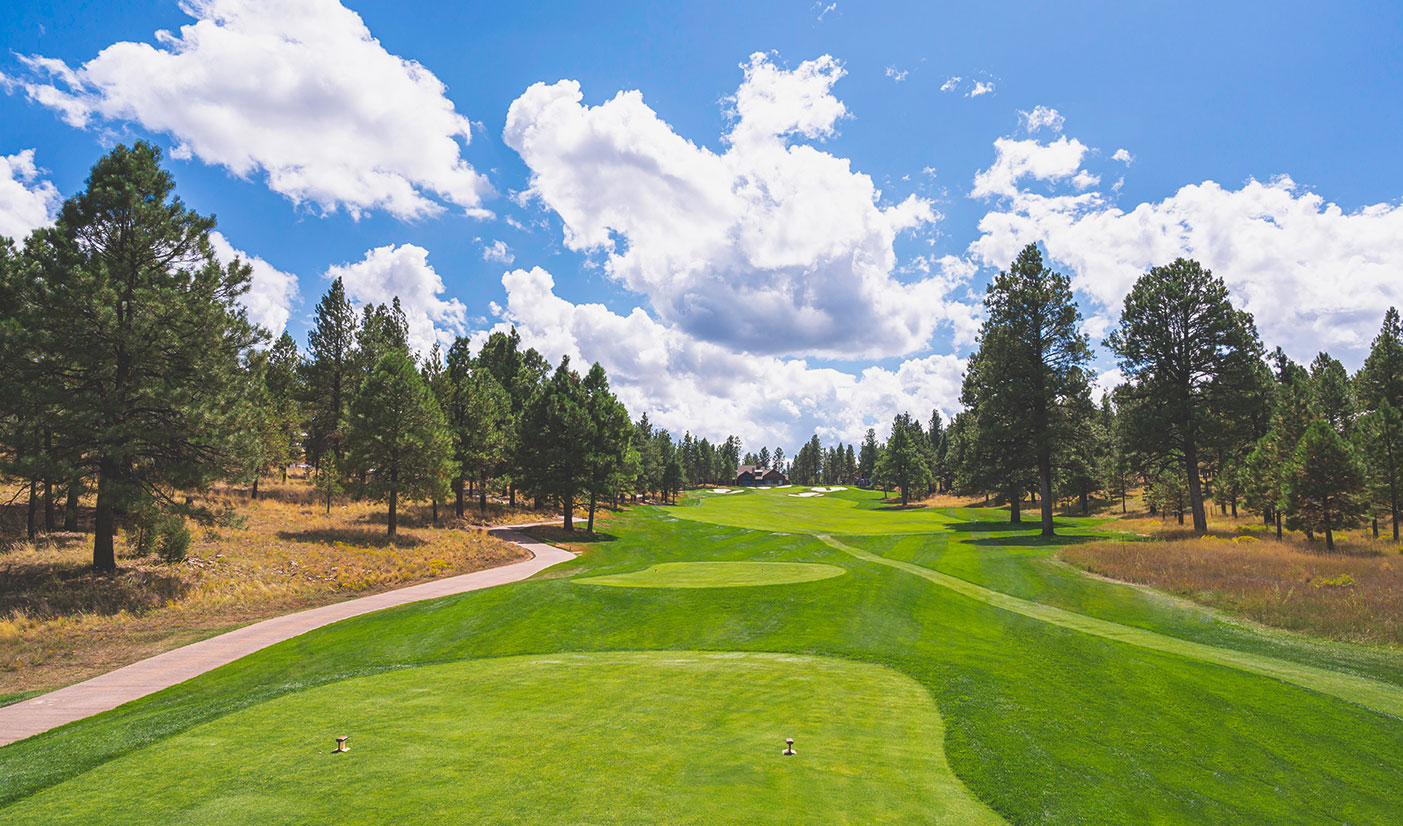 Hole 2 Byrd's Sanctuary You'll want to stay left of the snag tree off the tee, but keep an eye on the pin. Positioning around the green is key.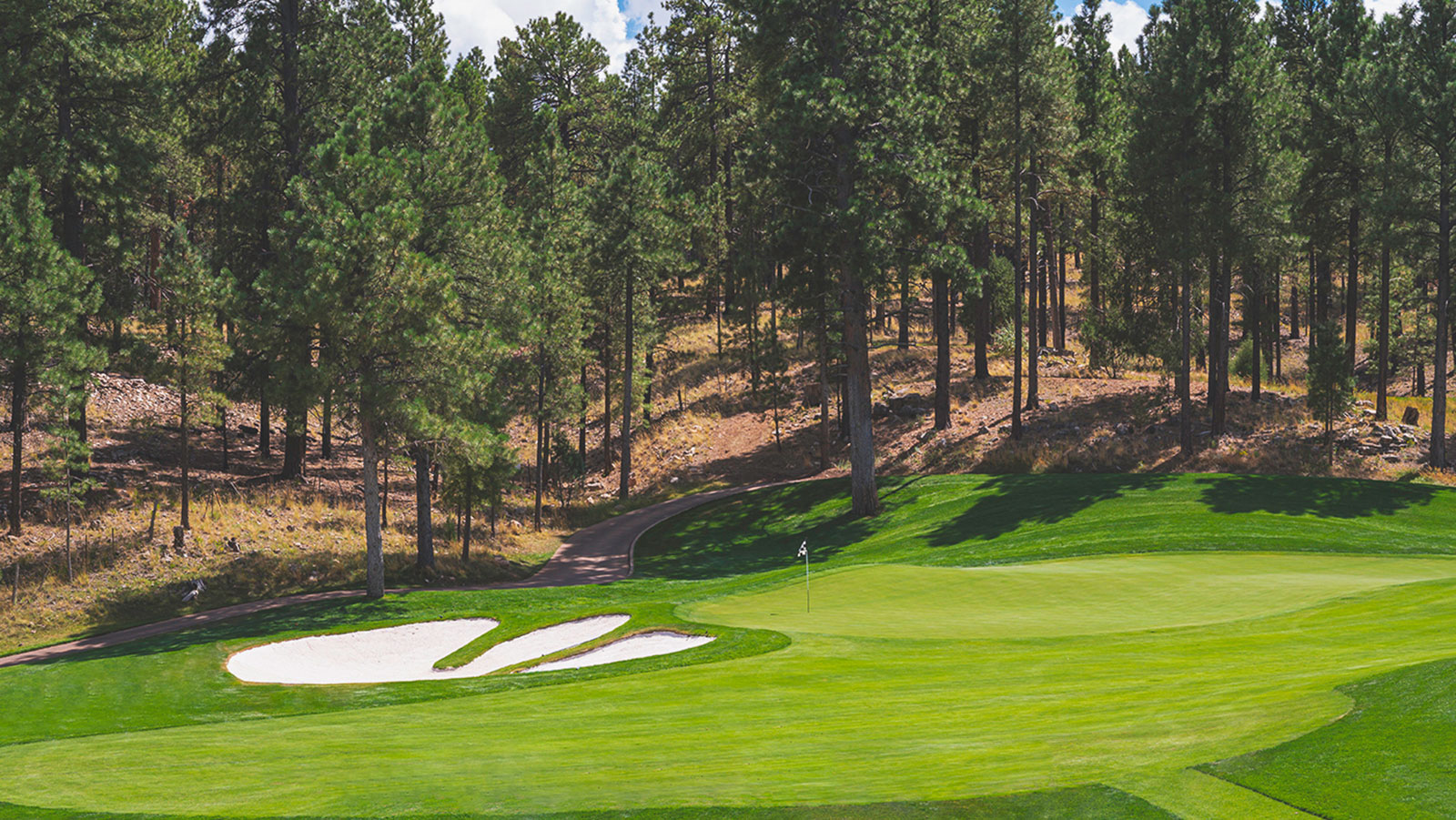 Hole 3 Crosswind Short is better than long on this downhill par 3. If you must overshoot the green, err to the right.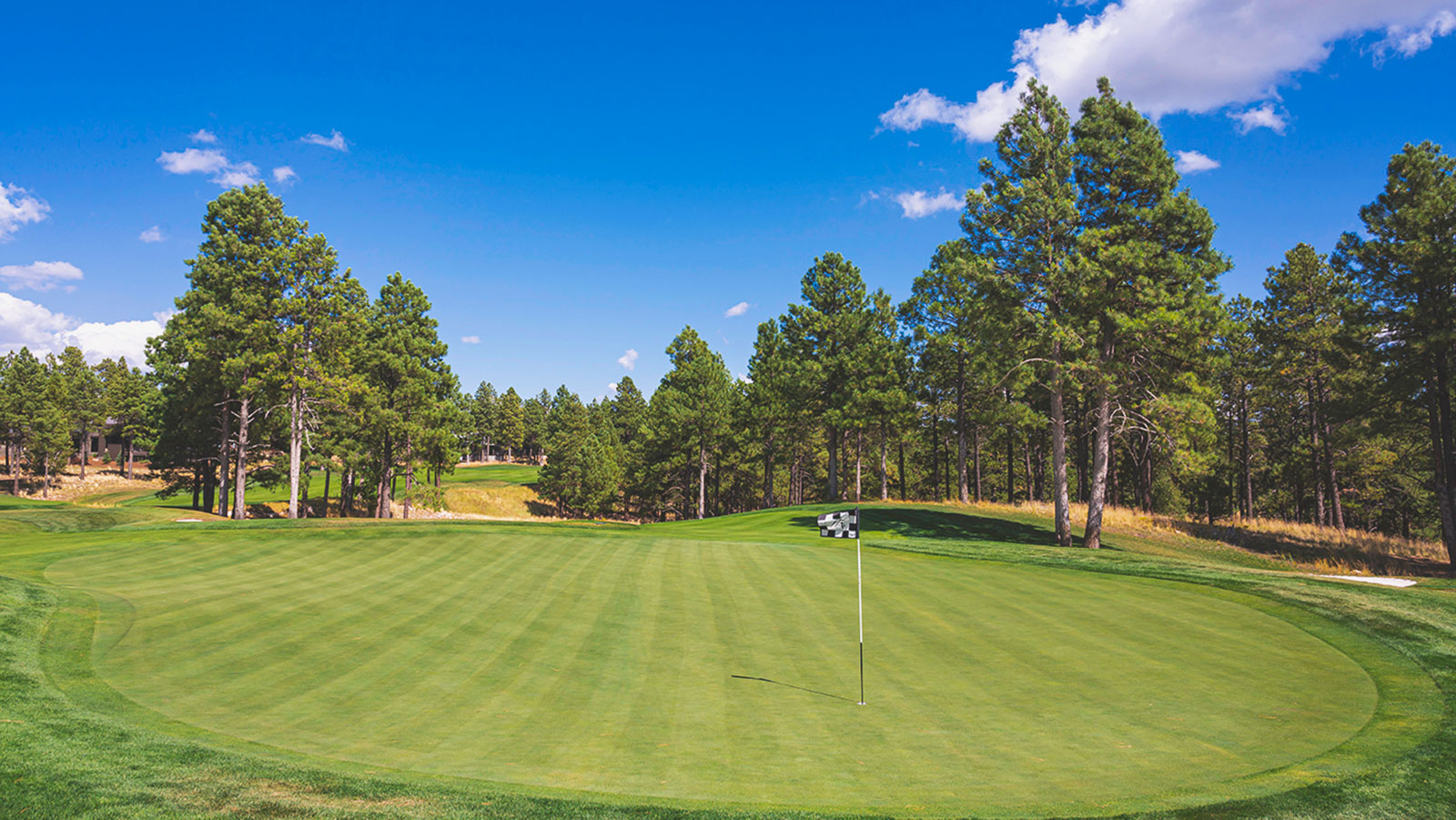 Hole 4 Split Decision The groves of trees short of the green will end up dictating your options on this reachable par 5.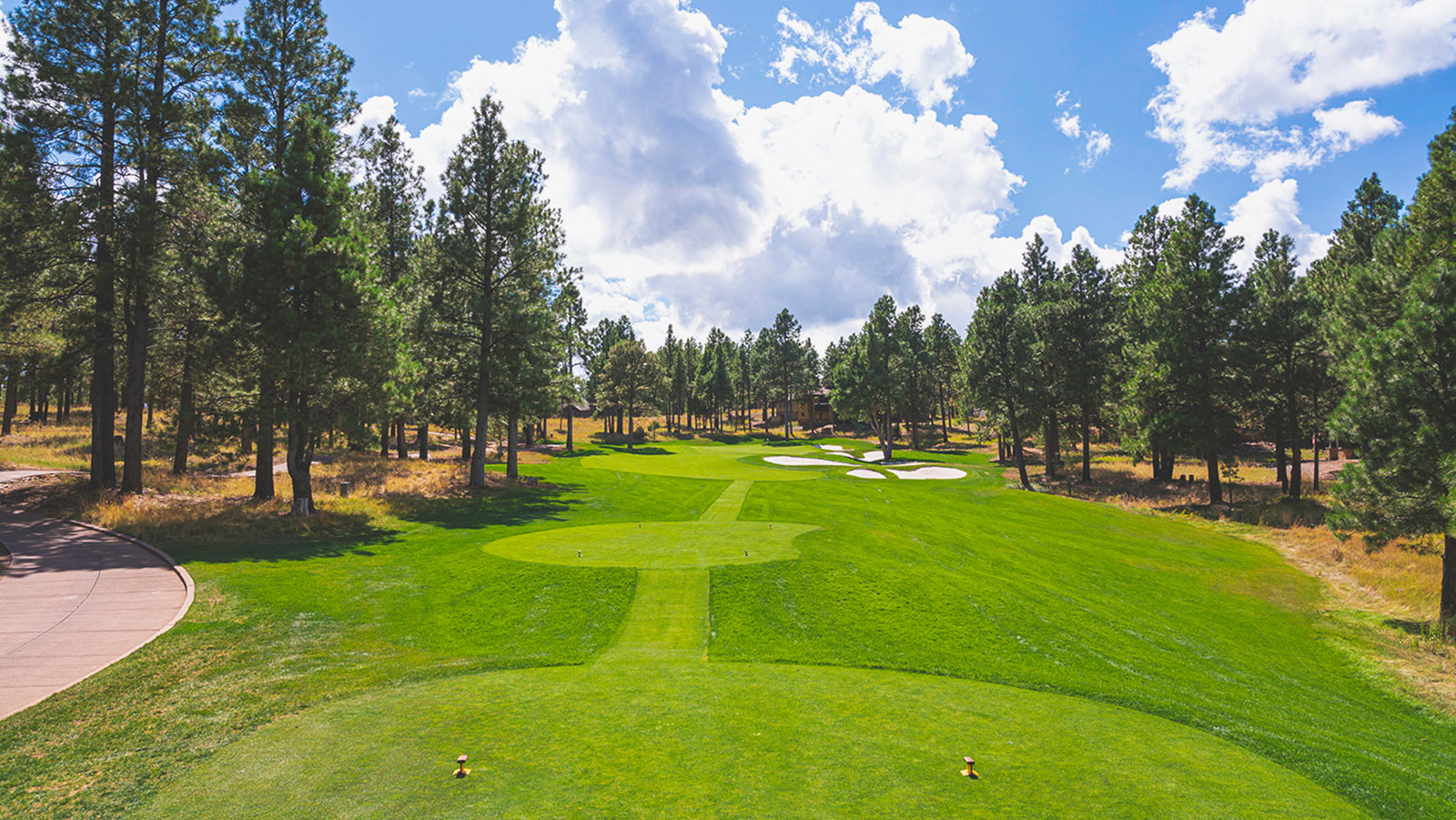 Hole 5 Pine Meadow Be sure your ball comes to rest on the same tier as the pin. Otherwise, you may have an interesting putt or two, or three.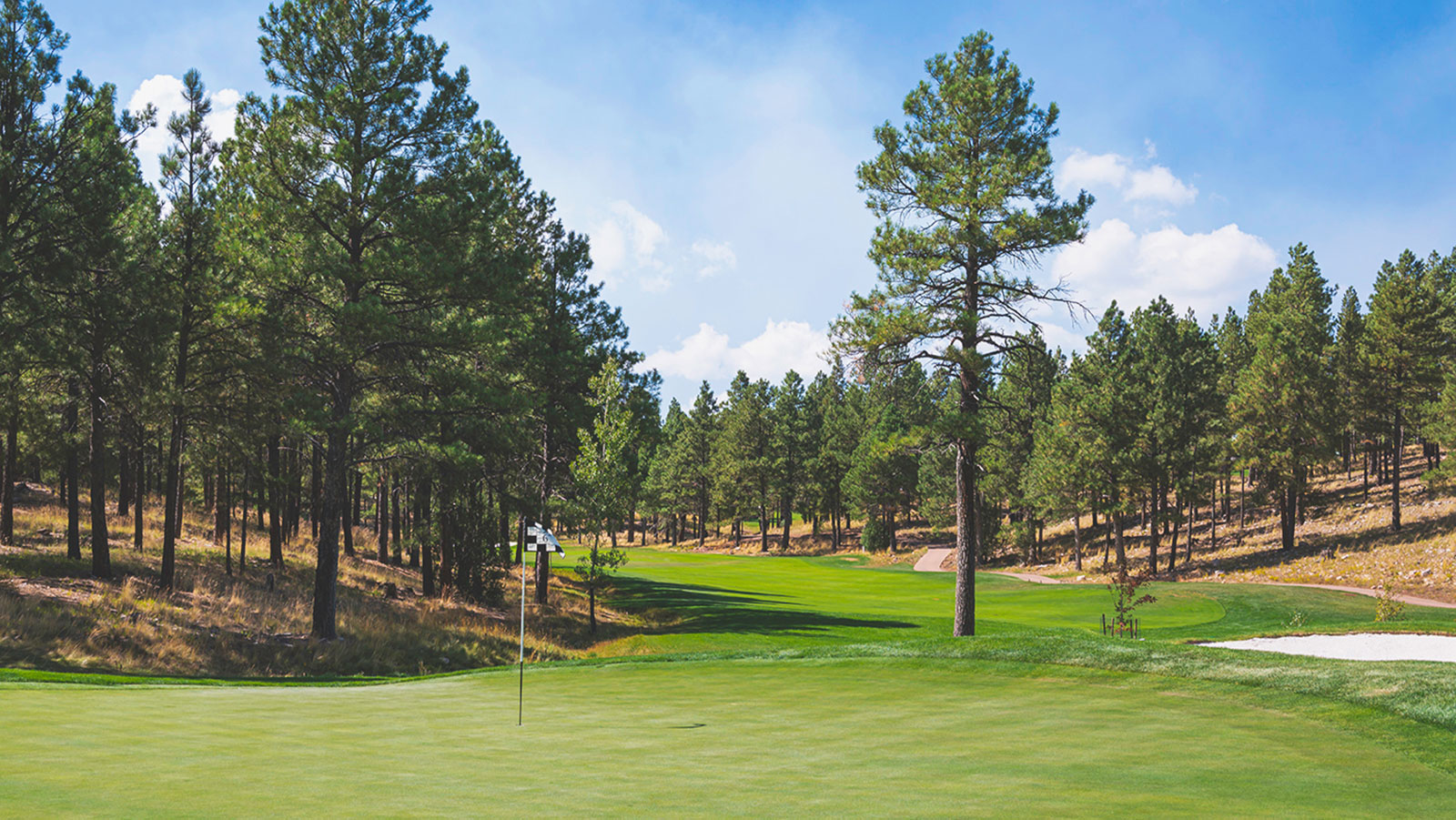 Hole 6 Elk Run The landing on the right of this fairway is more generous than it appears. Stay right and you can't go wrong.
Hole 7 Pine Canyon Favor the right side of the fairway for your best birdie opportunity. A reachable par 5, but accuracy is critical.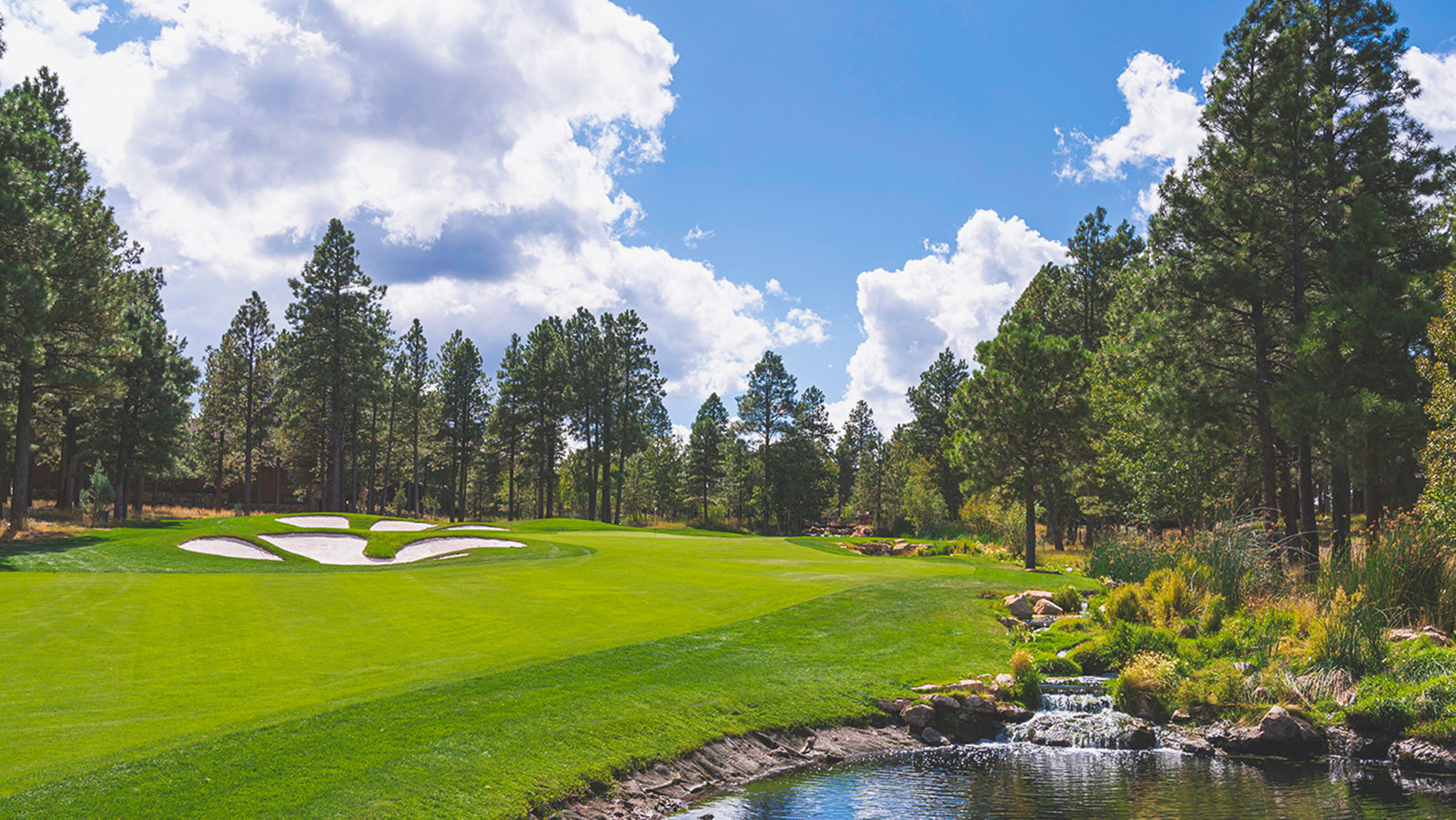 Hole 8 Creekside An outcropping of trees hides the large landing area on the right side of this fairway. A slicer's dream.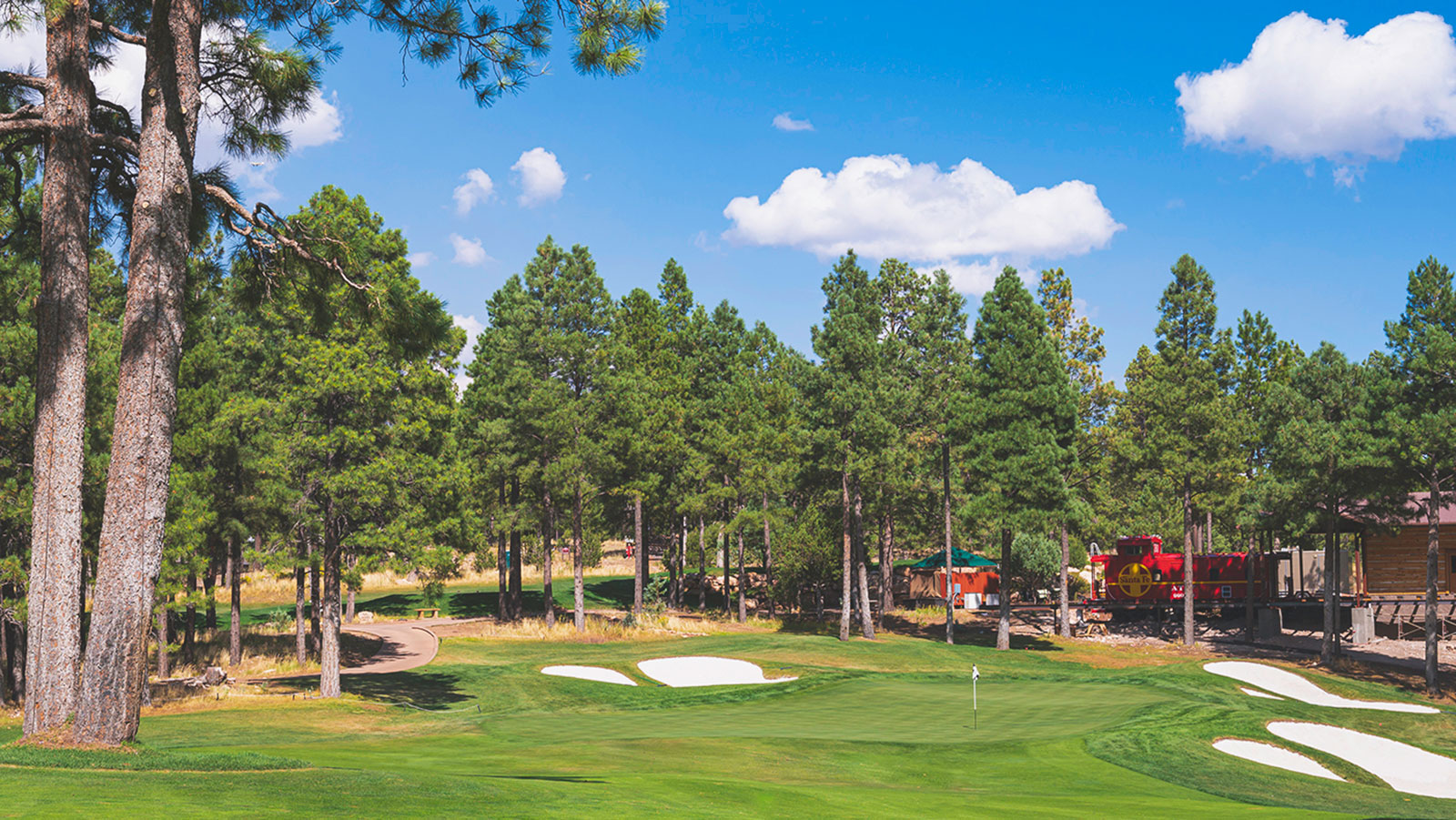 Hole 9 Whispering Wind Stay within the tree line and you'll make this par 4, unless bad luck puts you behind the split trees in the middle.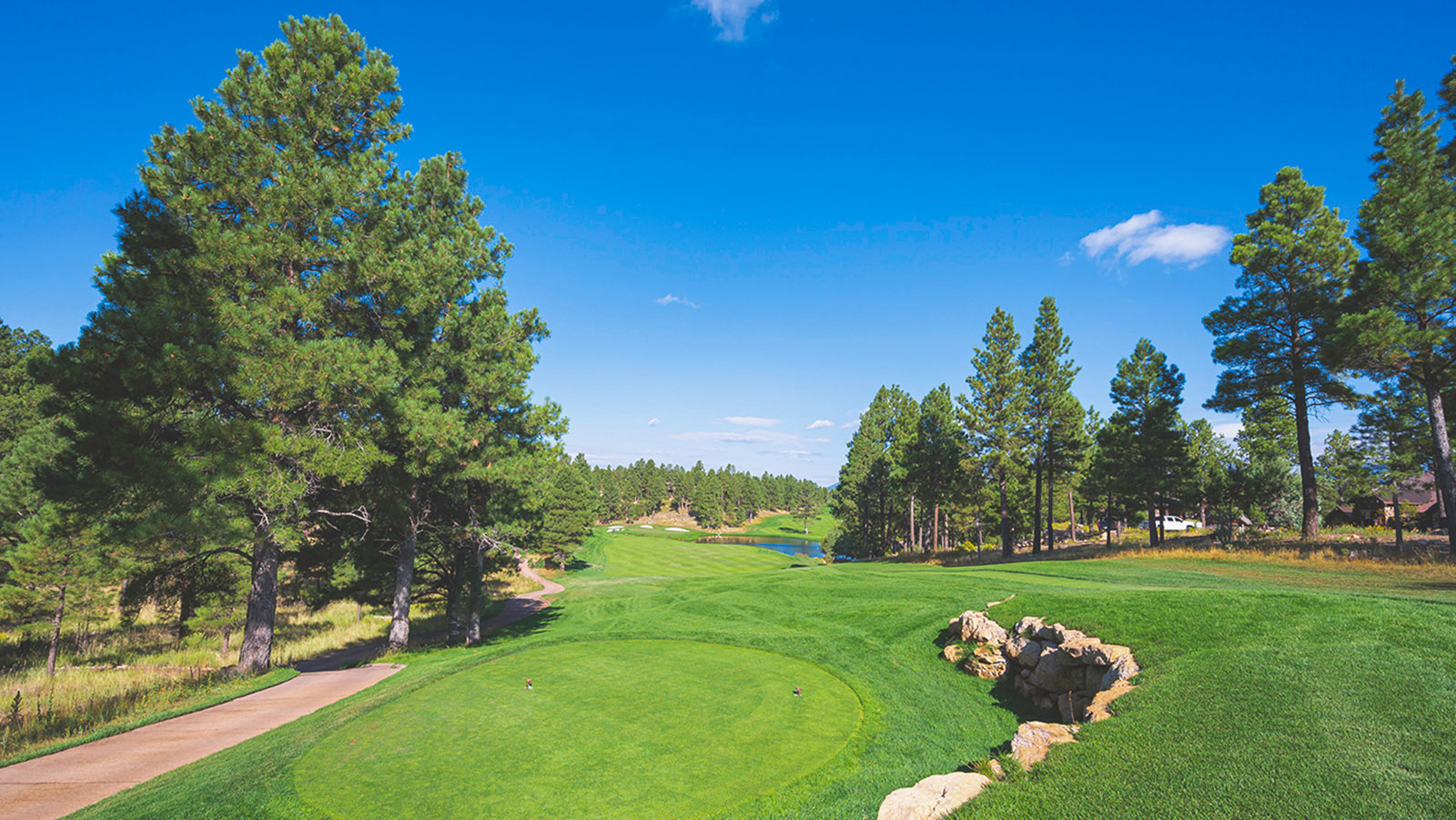 Hole 10 Reflections Favor the left off the tee, as the fairway slopes right. If you're going to miss this green, go long, or you might get wet.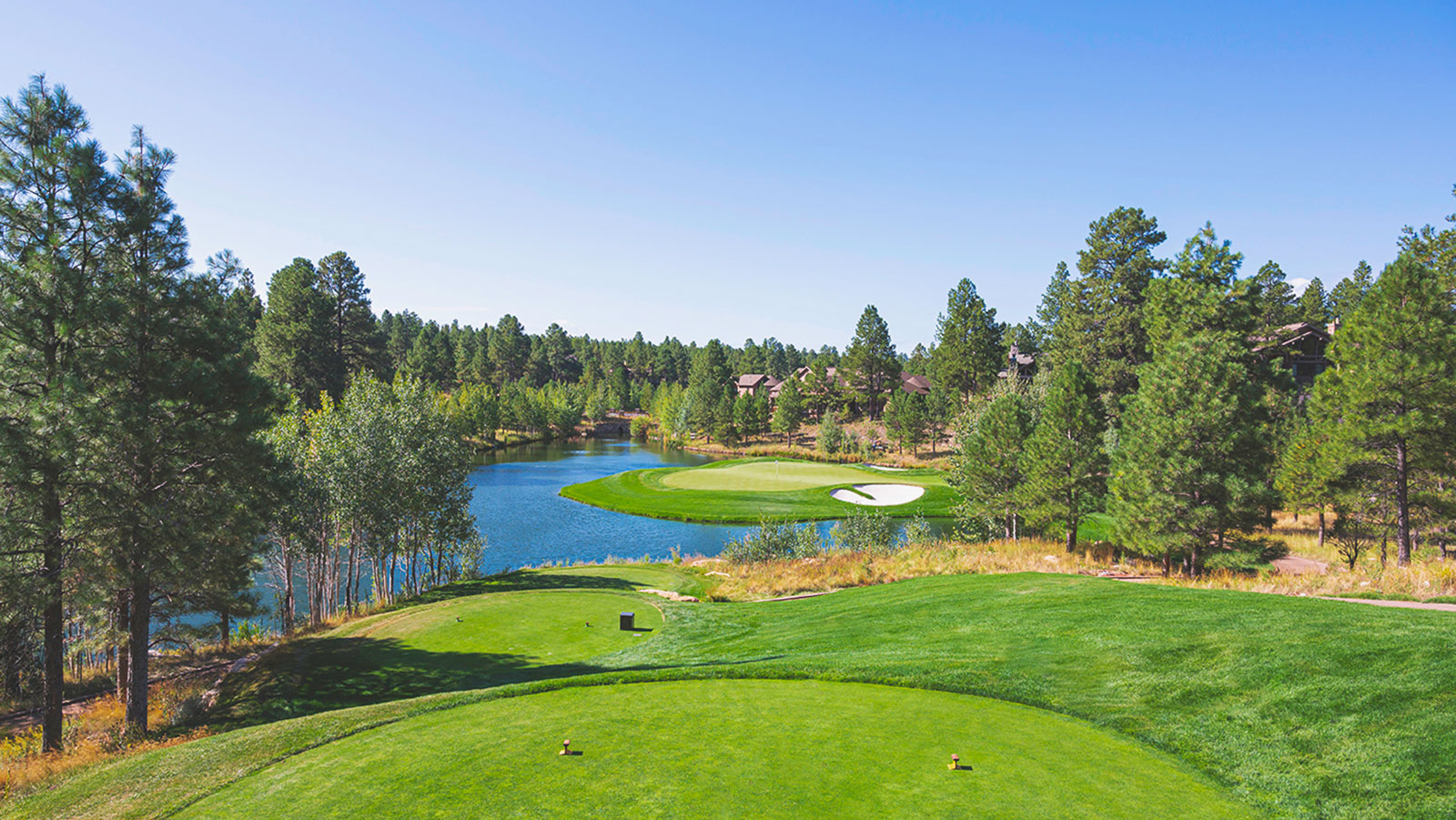 Hole 11 Eagle's Nest Pick the right club and put a smooth swing on it. Going long or left will land you in the drink.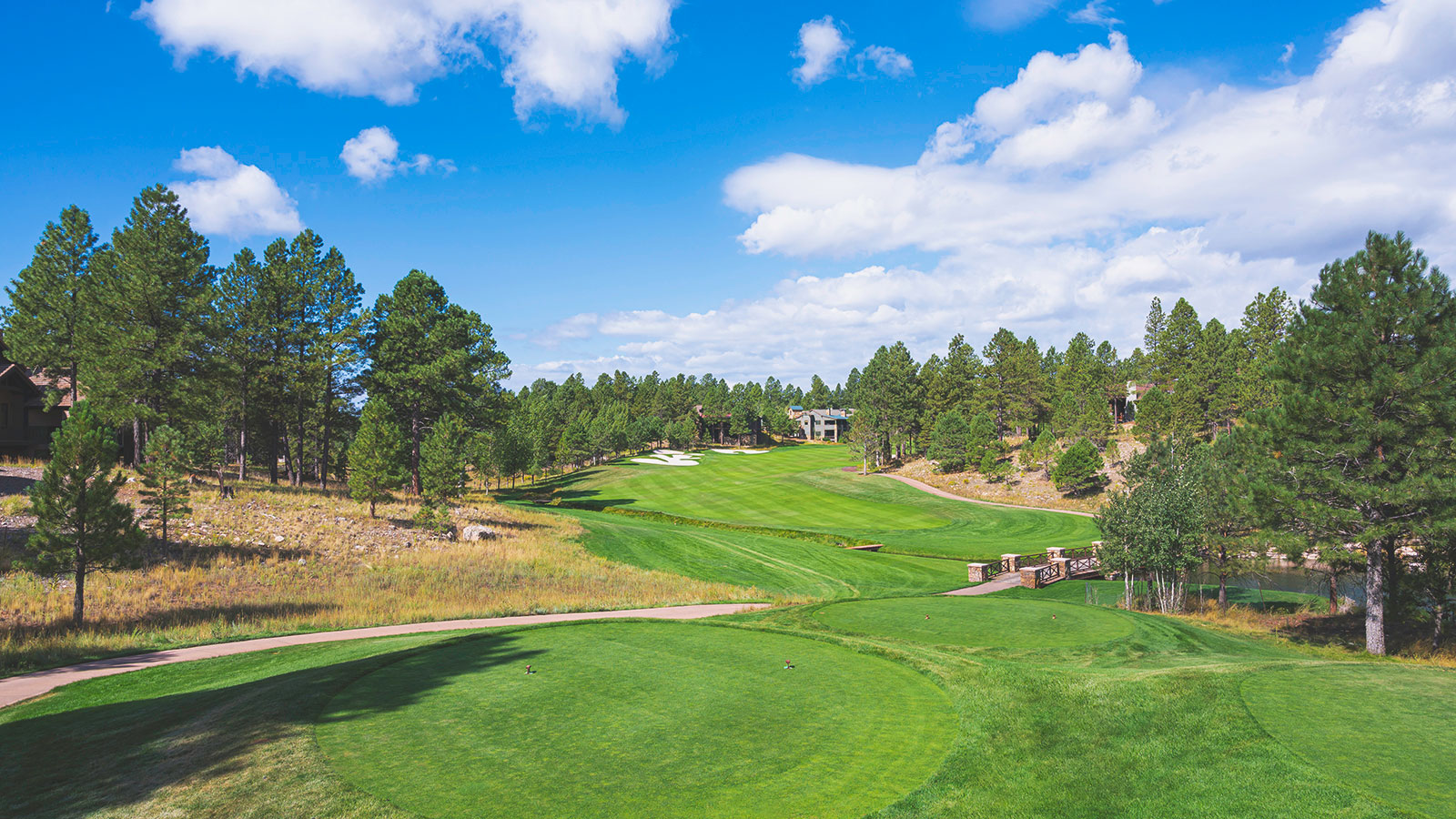 Hole 12 High Five Cut the right corner at your peril: bunkers lie in wait. Unless you drive the ball like Daly, this is a 3-shot hole.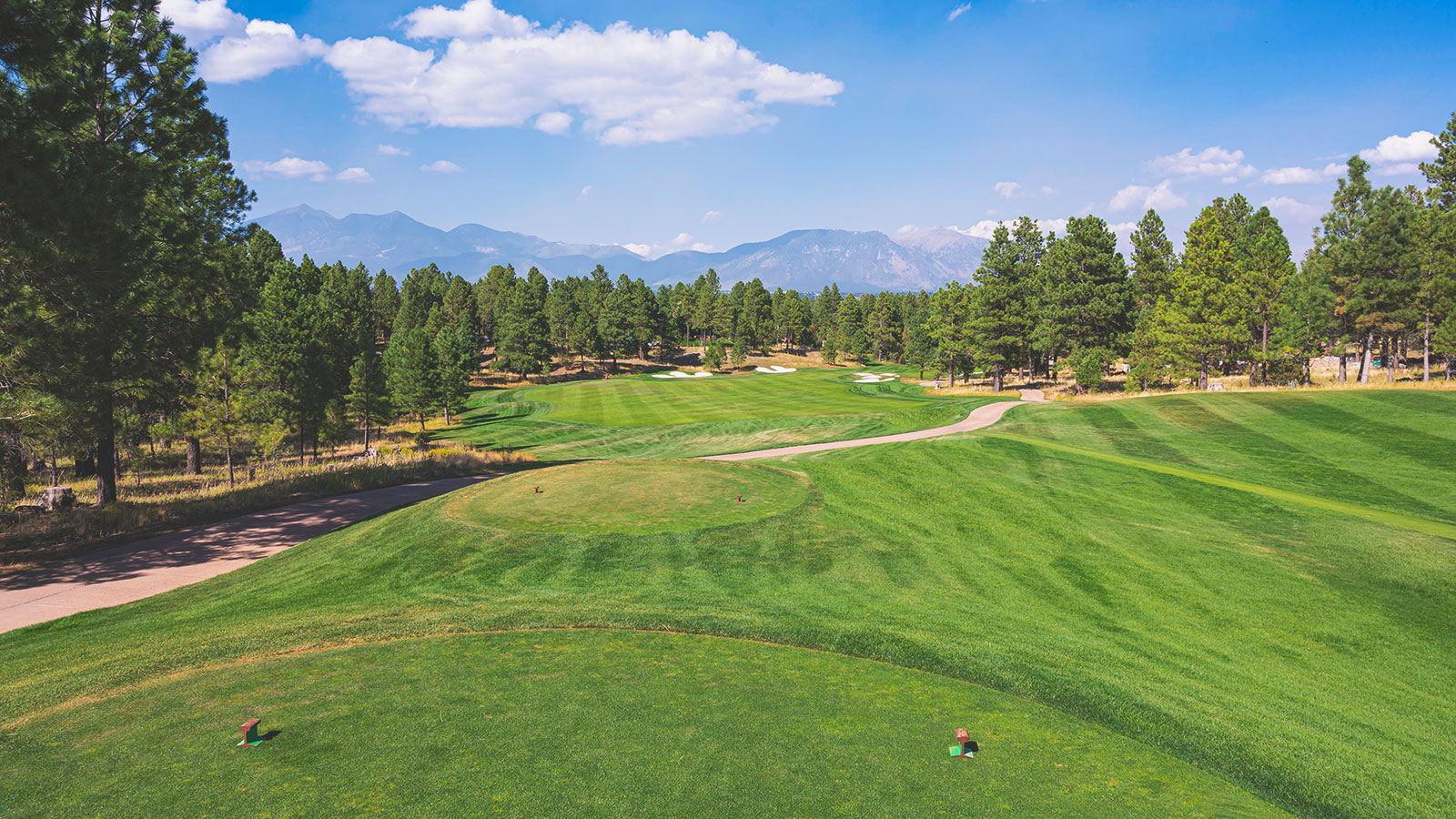 Hole 13 Mountain View You may be able to carry the bunkers along the right side, but it's risky business on this downhill par 4.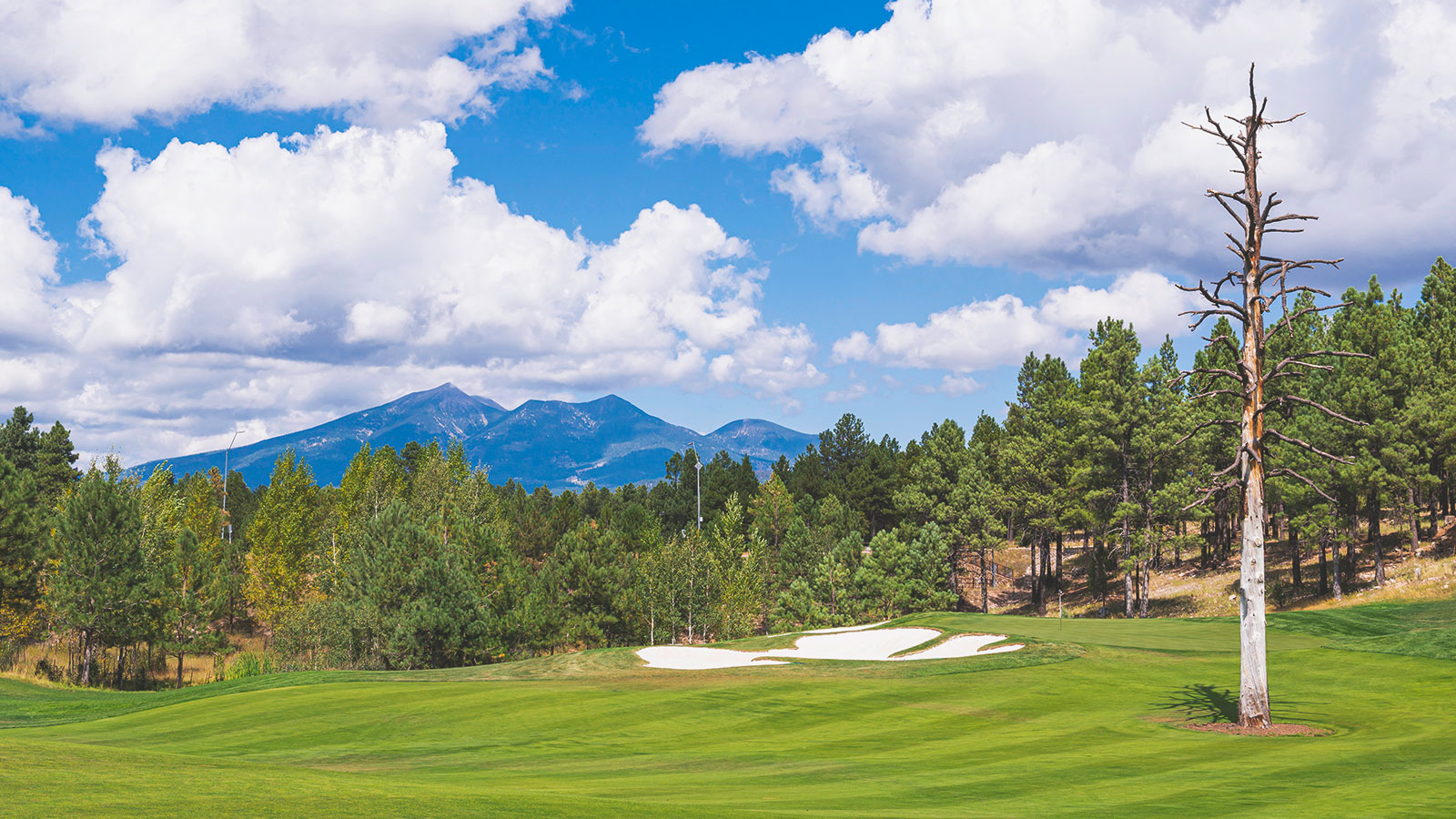 Hole 14 Lone Tree A nice and roomy fairway. Now all you have to do is avoid the fairway bunker and the lone tree short of the green.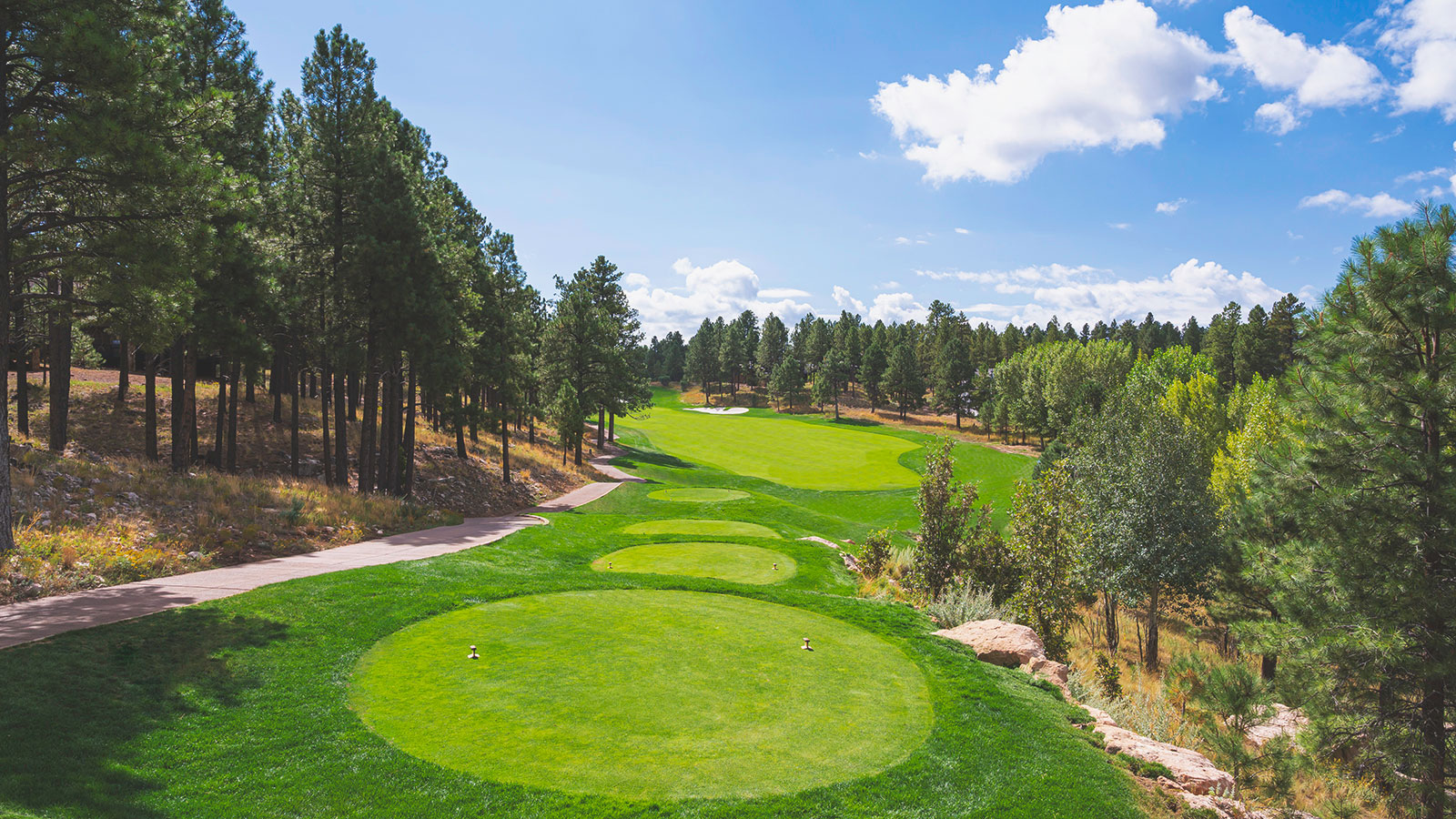 Hole 15 Timeless Timbers This hole requires cool precision all the way through. Target the pin and sharpen you short game skills.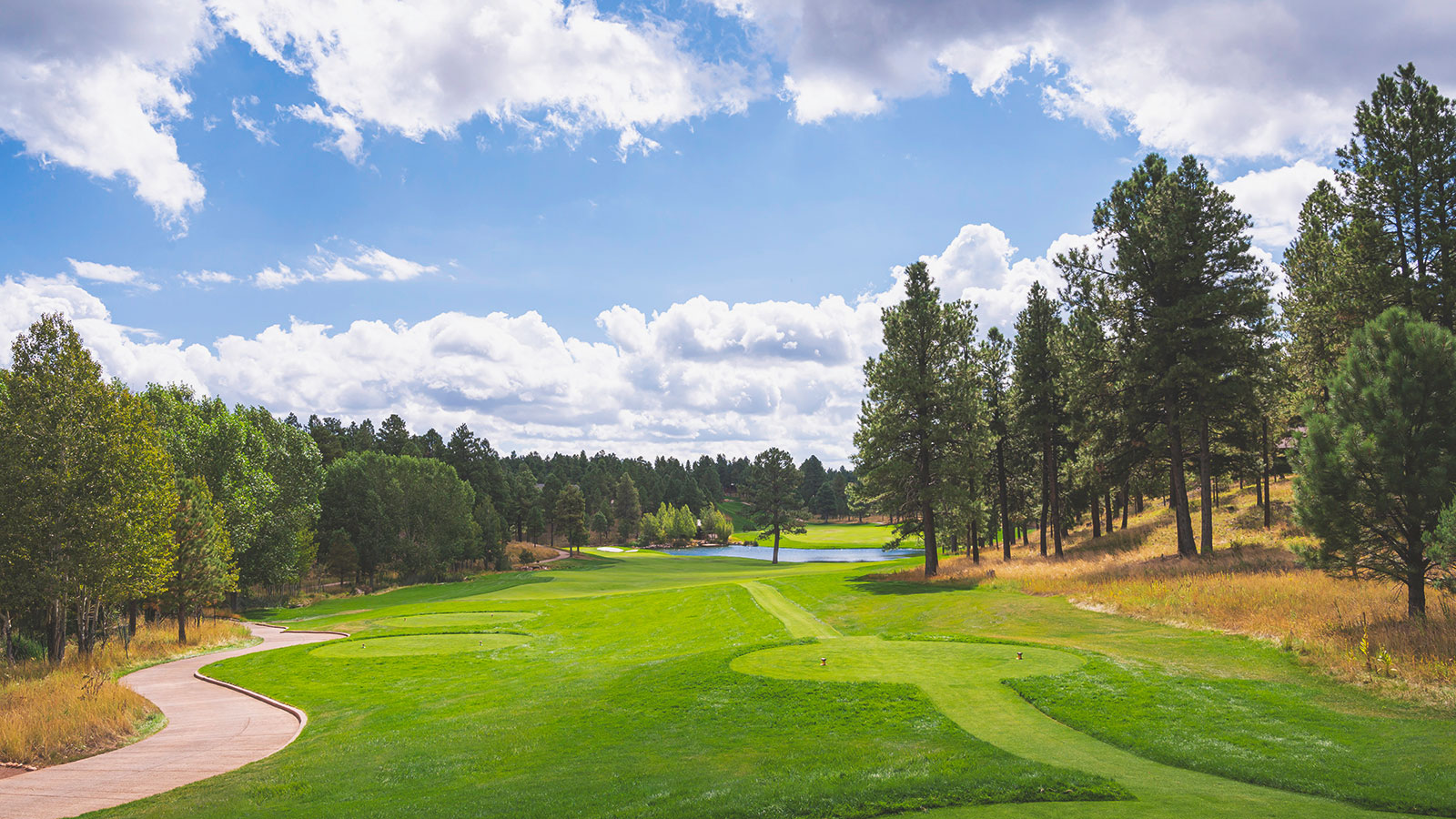 Hole16 Dawson's Creek Staying left of the tree guarding the water hazard is ideal. Perform a reality check before you decide to go for it in two.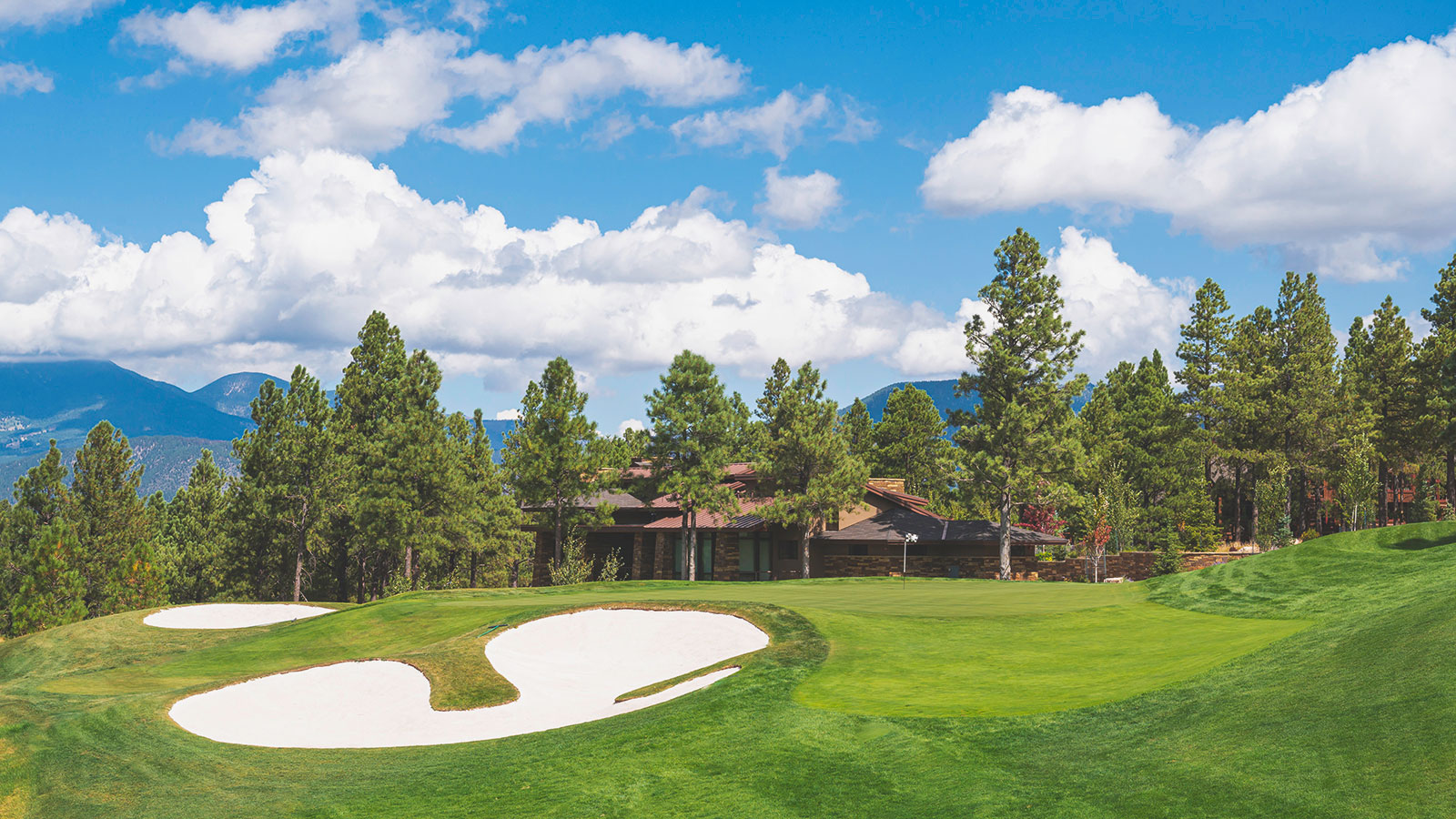 Hole 17 Sweet Serenity Favor the right side of this beautiful par 3. Long and left can spell disaster. Trust your club selection and swing.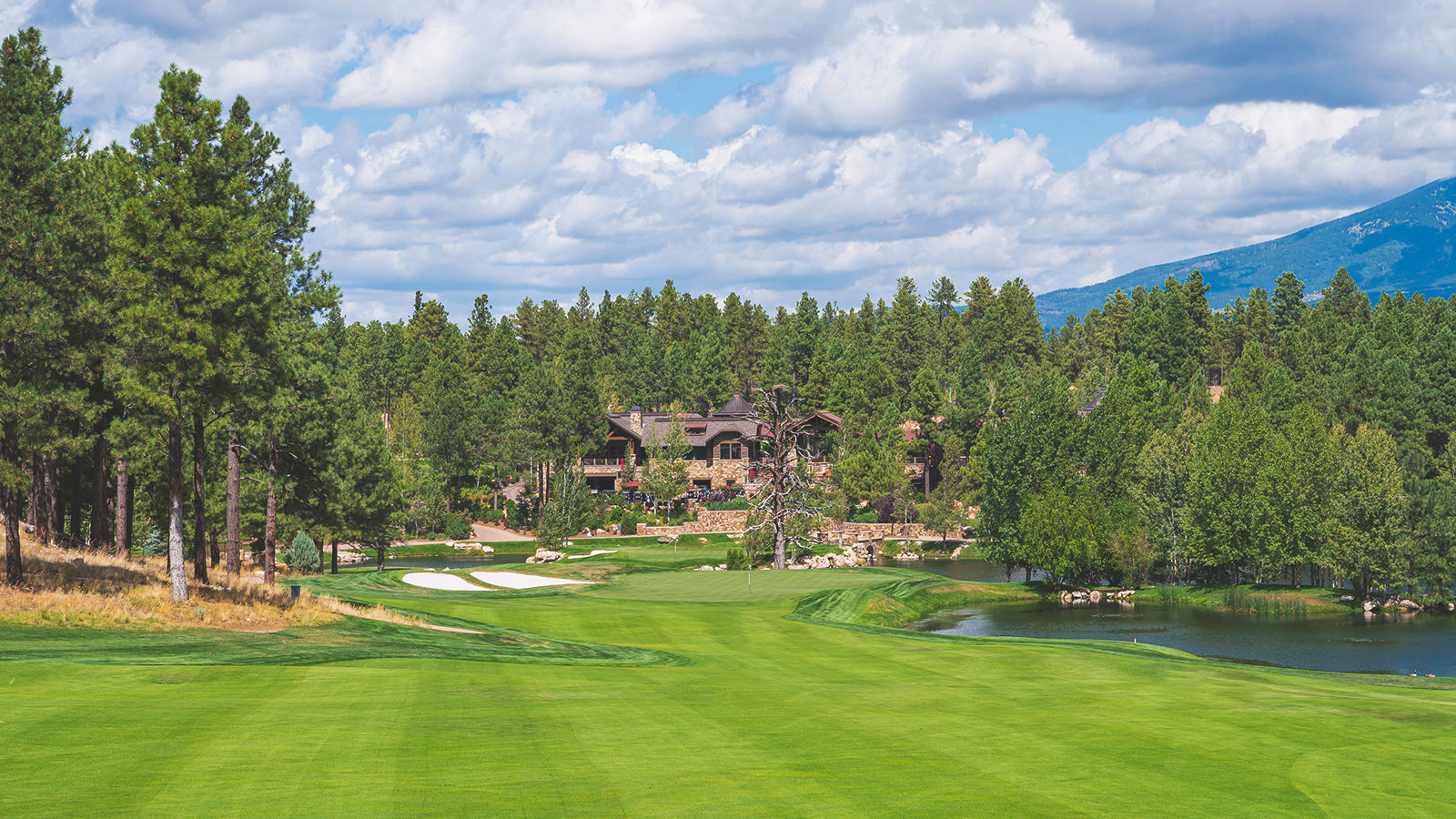 Hole 18 The Peaks Swing away at this breathtaking downhill finishing hole. Beware: the landing is forgiving, but left of the tree line is not.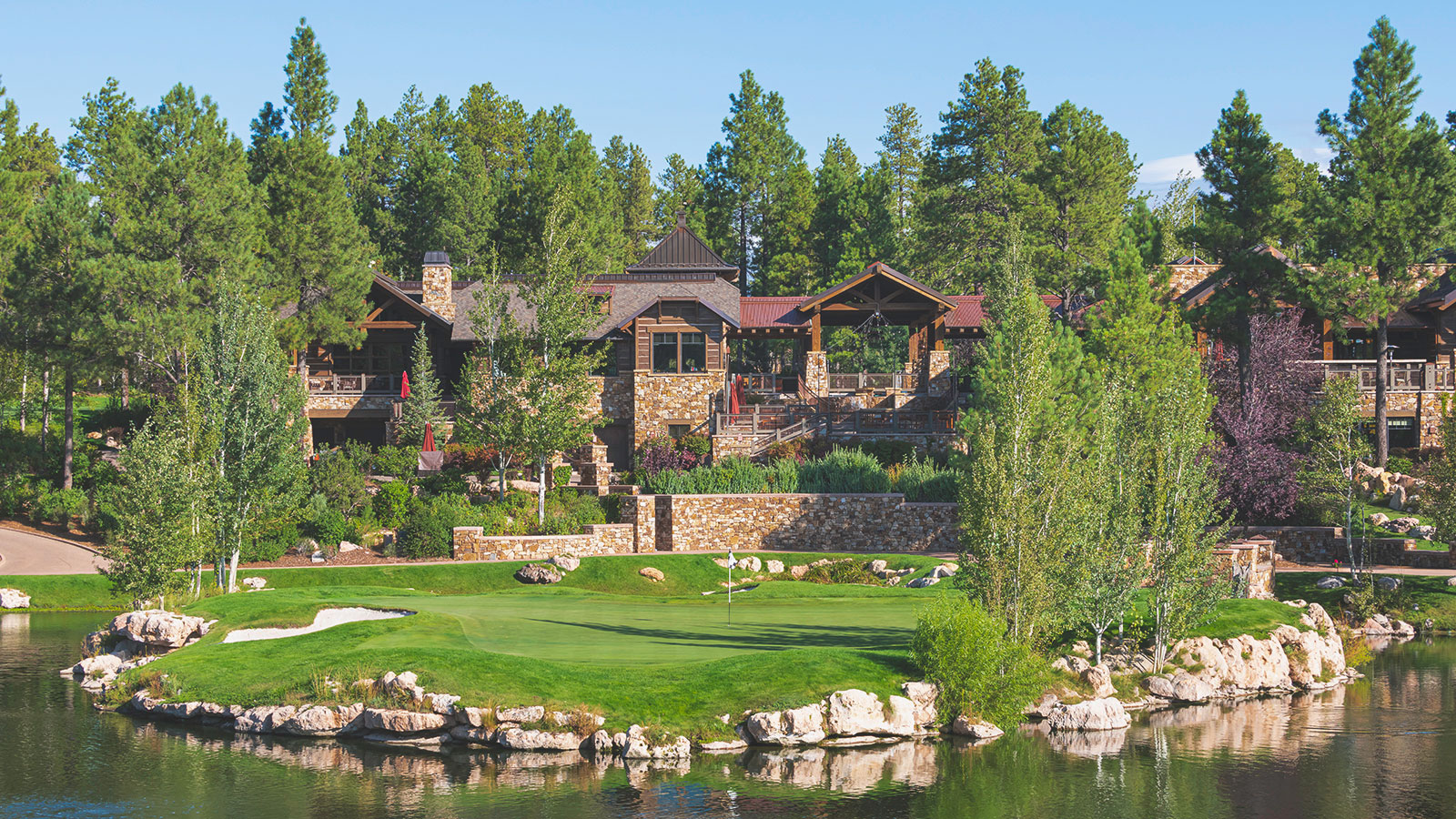 Hole 19 Double or Nothing Here's your chance to settle all bets. This island green is short but deadly. No divots off the bridge, please.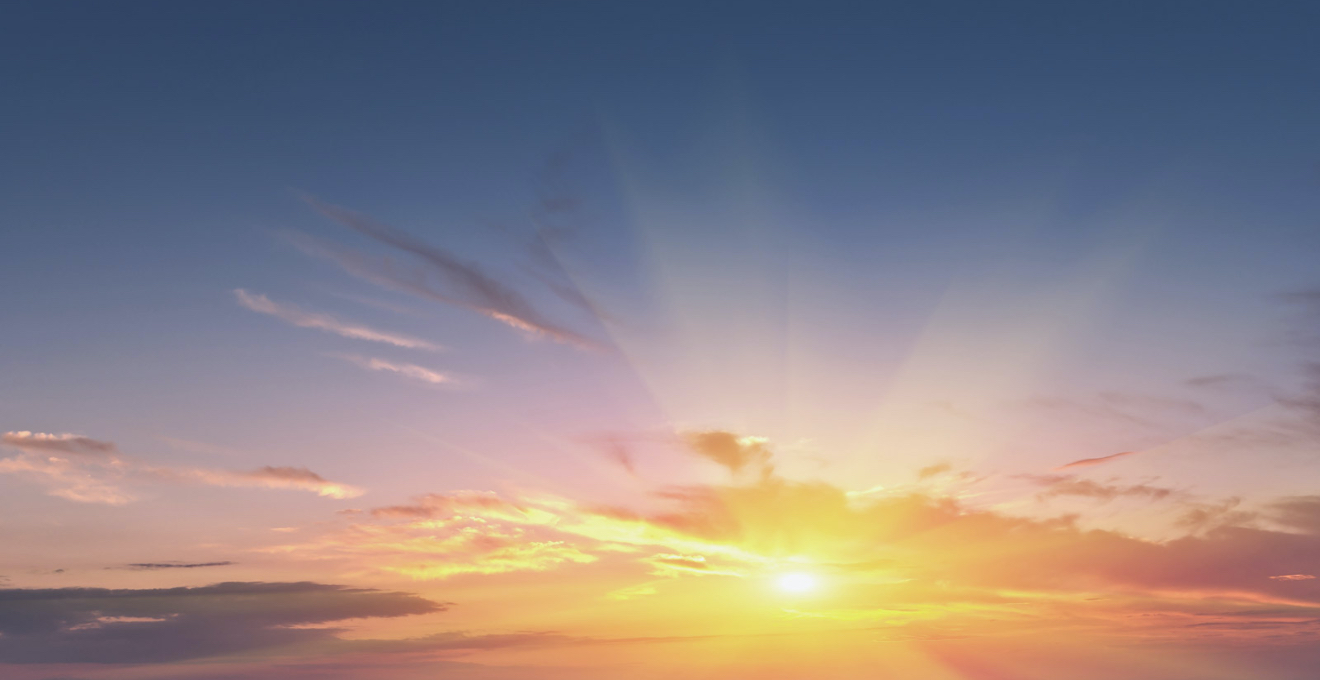 Memberships
At Pine Canyon, members become friends for a lifetime and families share experiences that are cherished for generations. The club provides a full calendar of social events and activities for all members, from weekly Happy Hour to Snow Days to pool parties. Join us and enjoy the many benefits and privileges of club life. No distractions, no interruptions — just quality family time, networking and world-class golfing.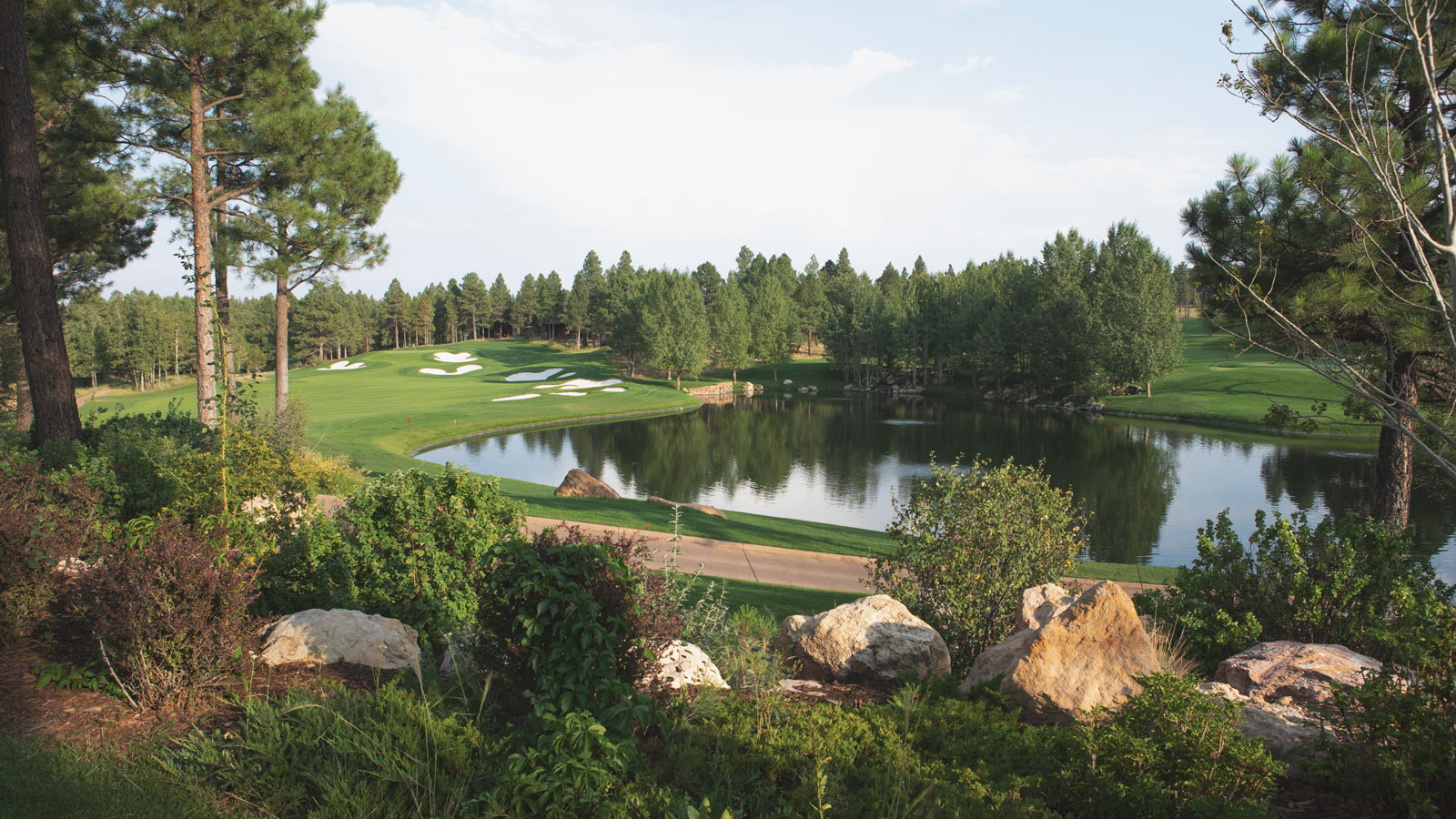 Golf Shop
---
The best apparel for avid golfers, gifts that fit Flagstaff's mountain-town culture and the game's best equipment — Pine Canyon's golf shop covers all the bases with a boutique feel and friendly, helpful service.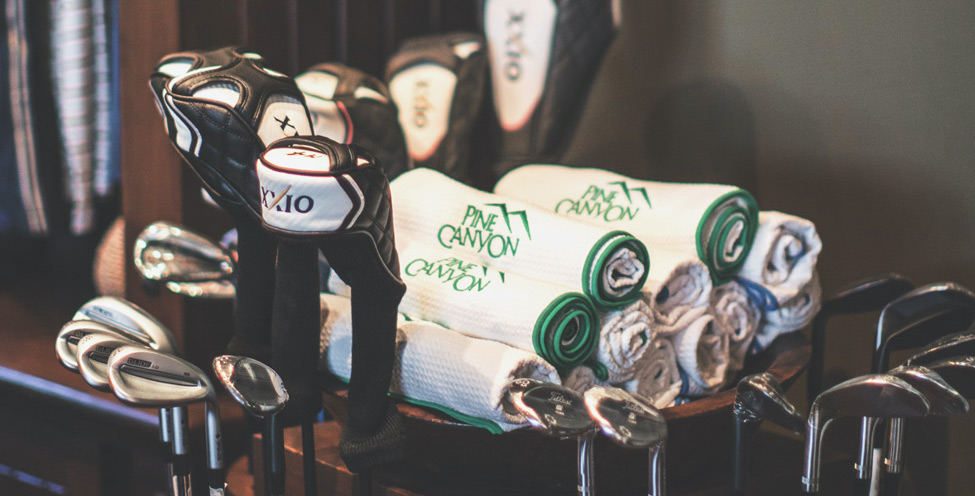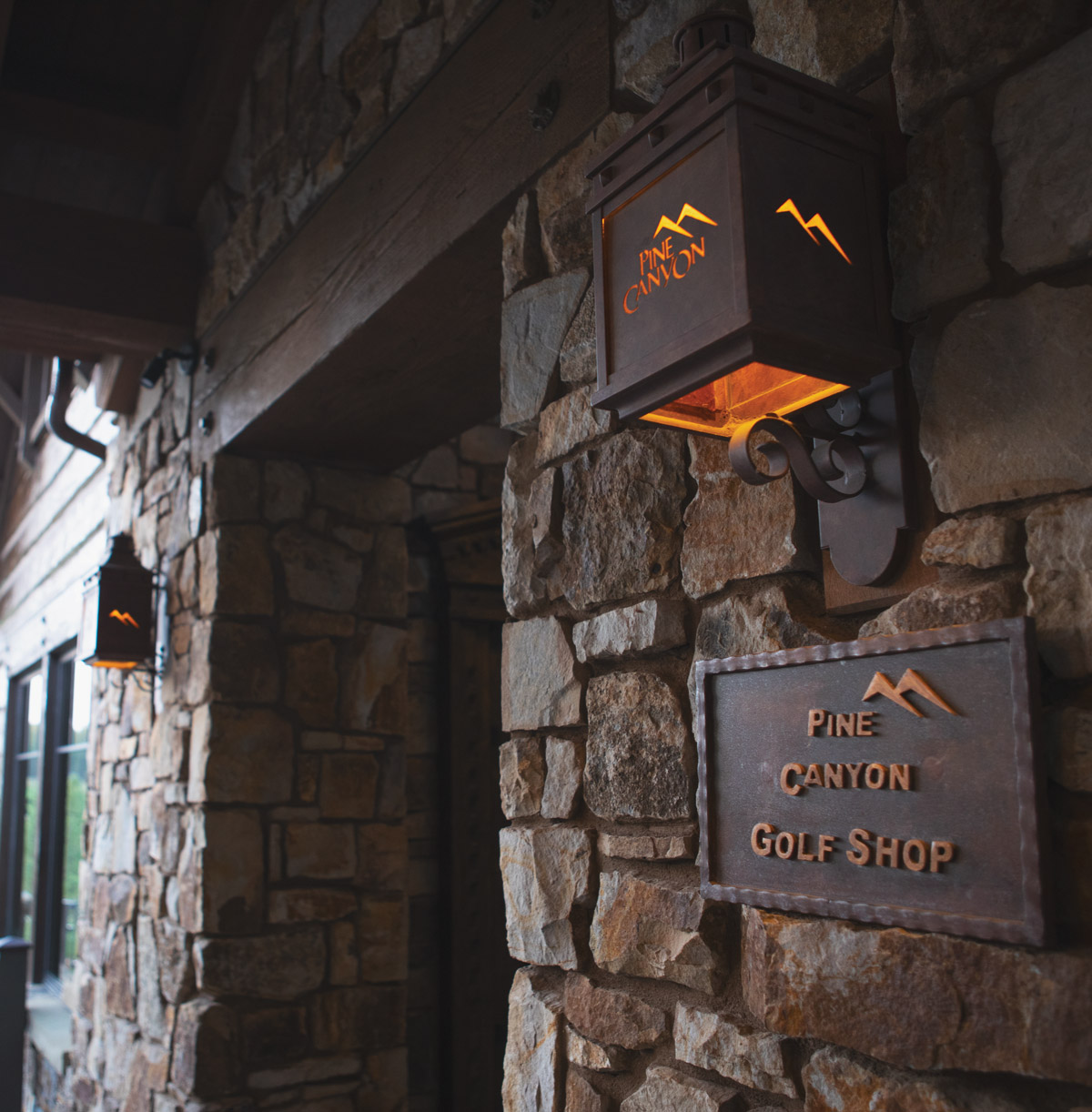 Contact Us
---
Whether a seasoned golfer or an occasional competitor, there is a little slice of heaven at every hole. Fill out the following form or call 928.779.5700 for more information about Pine Canyon Golf Memberships.
Request membership information: